Chelsea Clinton isn't the internet's favorite person. She's become more politically outspoken on Twitter, leading to rumors swirling about her running for office—and though she's denied those rumors, that hasn't stopped people from all over the political spectrum registering their distaste at that prospect. Vanity Fair recently published the rather brutal "Please, God, Stop Chelsea Clinton from Whatever She's Doing," while a columnist for the New York Post penned an op-ed with the headline, "God help us if Chelsea Clinton runs for office."
As I've previously explored, Chelsea Clinton does have a rabid (if small) fan base. But none of them compare to Justin Smith, a 34-year-old retail manager from Charleston, South Carolina, who has not one, but two Clinton-themed tattoos: a portrait of Hillary and another of Chelsea.
Smith doesn't have a specific reason for getting two Clintons inked onto his skin. When I spoke to him over the phone about it, he seemed exceedingly casual about the shrine to the Clinton family forever etched into his skin. "I've been a supporter of the Clintons since I was ten years old, going back to 1992, '93, actually before Bill took office," he told me. "I'm just a long-time supporter of them. They've been my heroes for well over 20 years." While his enthusiasm of the Clintons seems to go beyond just politics—stanning doesn't necessarily have to have a rhyme or reason—he told me he appreciates the whole Clinton family because he "saw at a young age that they care deeply about human rights," specifically their support of the LGBT community (he's been openly bisexual since he was 14). "That's the biggest thing," Smith explained. "Their longtime commitment to fighting for human rights."
The same tattoo artist inked both of the portraits. "He's an apolitical guy, but he thought it was cool," Smith explained. "It was the first tattoos of them that he's done. I think it might be the only Chelsea tattoo in existence."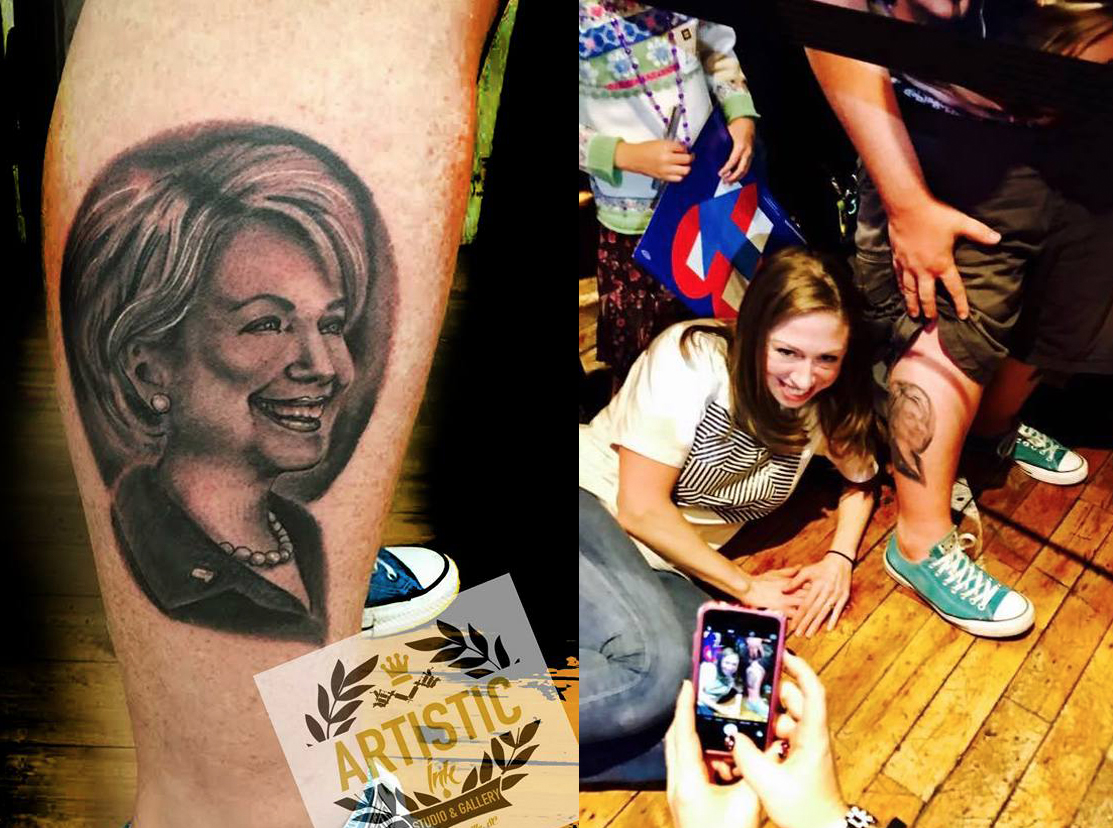 He's met all three members of the Clinton clan, and according to Smith both Hillary and Chelsea "absolutely loved" his Hillary tattoo. (He just recently got Chelsea.) "It was one of the best moments of my life," he said, laughing nervously.
When he met Bill, he "got so nervous" that he forgot to show off his Hillary tat. "Pretty sure Hillary showed him a picture of it, though," Smith told me.
Smith said he's hopes to get a Bill tattoo to complete the trilogy ("might as well get 'em all, right?" he said) but for now he only has portraits of Hillary, Chelsea, and, uh, Howard Stern. "I'm a fan and longtime supporter of him" he told me. "Howard is a longtime Hillary supporter, too, by the way."
Chelsea has yet to see his latest token of devotion to her, but he's experienced a lot of backlash for the tattoo on social media, though none in real life. "I hope to show it to her sometime soon," Smith said. "I've been getting a lot of hate on social media recently, from people on the far right and the far left."
Unsurprisingly, if the young Clinton wanted to get fully into politics, Smith said he would support her "100 percent."
"I hope she runs for office," he said. "The backlash is really disheartening to see. She's such a caring, compassionate person. I just don't understand where all the hate is coming from."
Follow Eve Peyser on Twitter.